Snow Plowing and Salting Services for Rockford Illinois and all the Surrounding Communities
Are you interested in:
.....a One-Time or Ongoing Snow Removal or Snow Plowing Service?
.....an One-Time or Ongoing Salting Service?
.....a Full Service Exterior (Grounds) Maintenance Program?
.....a Parking Lot (Grounds) Maintenance Program?
Are you considering signing a seasonal agreement for snow removal (snow plowing) services, but not sure where to start...or even what questions to ask?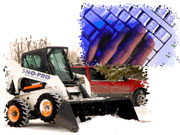 How many times have you hired a snow removal and/or salting company, or someone to do shoveling or snow blowing for you? And let's face it, you want to make sure that you have all of the necessary information to make the right decision when it comes to choosing the right company to contract with for the ongoing snow removal and/or parking lot maintenance contract for your business.
We are a local, decade old business able to personalize your experience. Our intensive services operate 24 hours a day working in the worst weather conditions imaginable to try and provide our customers with the best possible results. No, we don't take weekends or holidays off! We work with the weather not the calendar or the clock like some snow removal companies. We are licensed and insured and we use environmentally friendly low impact snow blowing equipment only.
Our biggest asset is you, our satisfied customer. We strive to make all our clients happy in this very challenging industry. We've been blessed over the years with some very kind and appreciative clients. It's tough battling Mother Nature and we won't always win but we will always be there giving you our 110% each and every time. Thank you very much for your business and if you are unhappy with anything along the way please let us know immediately so we can make improvements.

Remember, anyone can grab a shovel or cheap snow blower and write up a snow removal bid. Many of these people will bid on properties they really can't keep up with considering a typical Rockford area winter storm. Their price may be cheaper since their overhead is much less, but you will not be able to compare their service to ours. From response time to equipment in the field to environmental impact, Best Rockford Snow Plowing and Salting is, by far, the right choice.
We have been performing exterior grounds and parking lot maintenance (tasks such as snow removal and salting, not to mention snow blowing and shoveling driveways and sidewalks in the Rockford Illinois and surrounding communities), for over a decade - but this site isn't about us, it's about you! It's about helping you learn some of the basic information about snow removal and salting so that you can make the best and most educated decision regarding your property and who will be caring for it's maintenance.
With that said, let's begin with some of the most important information you will need to make the right choices....
Best Rockford Plowing and Salting, I can't thank you enough for the great job you are doing with our parking lot and overall facilities maintenance! It all looks excellent. I really thought it was great how you talked with us about the issues we had with our contractor last year - that alone speaks volumes to me. You have a fantastic company and a great price. I truly enjoy working with you. I will definitely recommend you and will call you again every time I need to. Thanks again! - Jim, Rockton, Illinois